Is there such thing as a hair conditioner bar?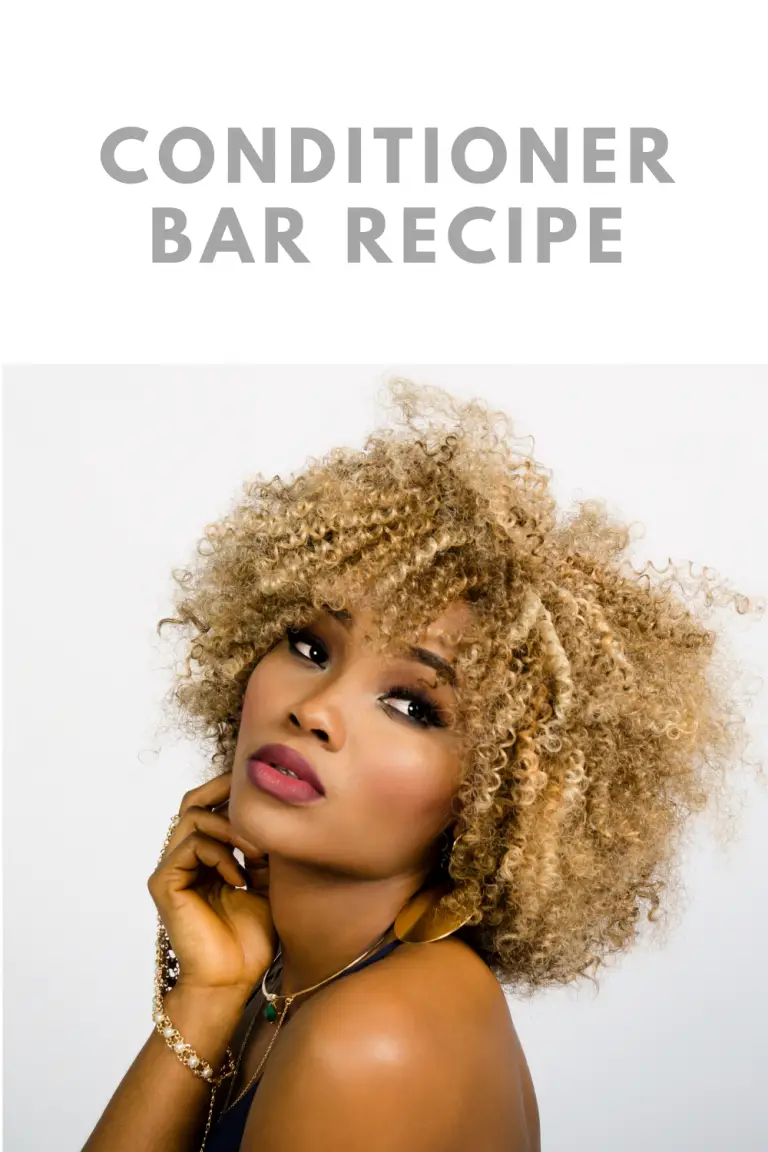 Well, yes. Just like you have liquid shampoo and liquid conditioner, you can use solid shampoo bars and solid conditioner bars. This post gives you a DIY conditioner bar recipe you can make and try at home.
Sometimes, shampoo bar users find that they don't need to use conditioner at all. However, those of you with extra dry or curly hair probably find that the more moisture, the better. If you don't want to make your own scroll down for product recommendations, including the best hair conditioner bar for curly hair (click here to buy).
Conditioner bars are all about moisture, moisture and… even more moisture. We use oils and butters to increase hair moisture and dryness. It is important to get the mix right, so that you don't end up with oily, greasy hair.
Important notes about solid hair conditioner bars
Hair conditioner bars are not as common as shampoo bars. This is because, as we stated earlier, some shampoo bar users find that their hair is so soft after washing that it doesn't need conditioning. Win!
Because they aren't as common, they can be hard to find. A lot of ready-made conditioner bars can feel a bit greasy. My favorite is by Ethique (scroll down to the bottom to read for more). Obviously this post is about making your own, so keep reading!
Conditioner bars contain moisturizing butters and oils, and because of this, they can take longer to rinse out. You need to use quite warm / hot water, and rinse for a long time. If you don't rinse for long enough, some residue will stay in your hair. Curly haired people won't mind. You often leave a bit of conditioner in on purpose to help tame the frizz. But if you want to make sure it is completely rinsed out, make sure you rinse for longer than usual. Use hot water, and follow with an Apple Cider Vinegar Rinse. ACV is a cleansing conditioner that leaves your hair feeling clean and soft. The best by far is Braggs ACV.
And on to a hair conditioner bar recipe. This recipe is loosely based on one I saw somewhere on the web, with a few adaptations of my own. Unfortunately I no longer have the original source to credit, but I am grateful!
Hair conditioner bar recipe
Equipment
You don't need any specialized equipment to make solid hair conditioner bars. You will have most of what you need in the kitchen already. If you don't, there is normally something you can substitute. You will need:
Either a double boiler, or a pot / saucepan with a pyrex or stainless steel bowl on top.
Spoon or something to stir with
Soap molds (you can use silicon baking molds too).
Measuring spoons and a cup.
Ingredients
We have listed the ingredients in a handy table, describing what each is, and the properties – i.e. why you want to put in in your hair conditioner bar recipe. You can click on the product recommendations to see each product and the latest Amazon prices.
If you already make beauty products at home, great! There is a good chance you already have some, if not all, of the ingredients to make a really good conditioner bar at home. You'll notice argan oil on the list Argan oil conditioner is especially great for dry or curly hair.
What is it and what does it do?

Recommended product (see on Amazon)

BTMS-50 usually comes in containers of small white beads.

It is a catatonic emulsifying wax. Catatonic means it has a positive charge - it leaves a fine coating on hair and skin and conditions your hair really well.

In this recipe, you can't really substitute anything else - it's crucial for the finished product. You can find recipes for conditioner bars that don't use this, but they will usually be harder to rinse out.

A fatty alcohol derived from natura l ingredients. Despite having 'alcohol' in the name, it softens your skin and hair, and helps bind other ingredients together.


Again - we don't recommend taking this out of the recipe. It's common in lots of beauty products so you can always use it to make other things too.

A byproduct of harvesting Shea nuts. Shea butter has been used in beauty products in Africa for thousands of years. It is moisturizing and anti-aging, and has anti-inflammetry properties.

You can use most other beauty butter products in place of shea butter if you like - a common substitution is cacao butter (love this one) or coconut oil (not as good in this recipe, but it does work).

Derived from the kernels of the fruit from Argan trees. Contains nutrients, antioxidents, anti-inflammetories, and is moisturizing. Can also be applied directly to hair.

You can replace this with most other oils - apricot, coconut, almond, even olive oil.

From apricot seeds.
Has omegaa fatty acids, makes hair soft and less brittle. Moisturizes and hydrates.


You can use other oils instead - argan, coconut,almond, olive... almost anything that you think will be good for your hair.

Plant-based powder derived from vitamin B5. Glosses, detangles and moisturizes.


Leave this one in - it's a good ingredient.

Depends what you use.

Phenonip - use 2.5 mL

Germall Plus - check bottle.



Phenonip is a paraben, so not particularly 'natural'. There is a lot of debate about whether or not parabens are as bad as people say. You can avoid this one and use something else if you want.

I've recommended Germall Plus

If you want to make this recipe without phenonip, you have a few options. You can leave it out or add essential oils that help preserve the shelf-life and reduce bacteria.




IMPORTANT: make sure you dry your conditioner bar out very well between uses if you don't put phenonip in.




A few drops is normally enough.

Lovely smells, and of course the properties of whichever oil you choose.

Which essential oil you put in your conditioner bar depends entirely on personal preference.
Instructions
If you don't have a double boiler (most of us don't), no problem. Put a pot or saucepan of water on your stove with 3-5cm of water in the bottom. Heat it up. Sit your pyrex or stainless steel bowl on top. The aim is to be able to heat ingredients in the bowl without direct contact with heat.
Measure all of your ingredients out before you start. You will be pleased you did later on, when you have to move quickly.
Mix your butters and oils (except for the essential oils) in the bowl on top of your double boiler set up.
Add the BTMS and cetyl alcohol and stir until mixed.
Heat with a low-medium heat (not too hot!) until all mixed through, then turn off the heat.
Working very quickly, add your essential oils, your phenonip and your DL panthenol.
Stir stir stir.
Pour into the molds.
Allow to cool, remove from mold and "cure". This just means put in a cool, dry place for at least 2 days.
Hair conditioner bar recommendations
If you don't want to make your own conditioner bar, and want a ready made product, that's ok. There are loads of options. Click on the links below to see conditioner bars on amazon, read more information and check pricing. If you have damaged hair and want a deep conditioner, making your own is a good idea. You will want to use it quite often, and can then adjust the ingredients to suit.
More product recommendations and recipes
If you want to make more hair products, including shampoo bars, conditioner bars, and hair detox masks, click here for inspiration and recipes.
If you want to know how to choose the best shampoo and conditioner products for your hair type, click here for product recommendations.
This post may contain affiliate links. If you click on the links and end up purchasing something, I may get a small commission. This doesn't cost you anything extra 🙂