Here you will read about the reason that lye can be a problem, and how you can make your own lye free shampoo bar at home
What is the problem with using lye in shampoo bars?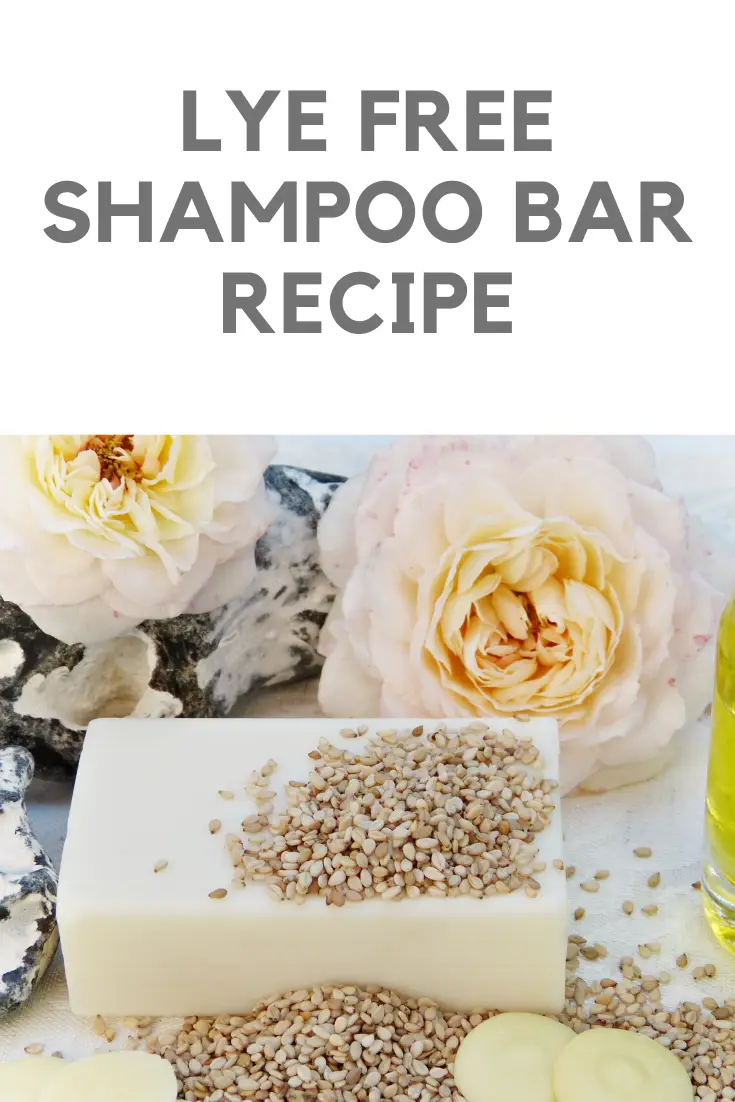 You might be wondering why you wouldn't use lye in your shampoo bar, as it's a key ingredient in so many online recipes for both soap and for solid shampoo.
The reason I've included a lye-free shampoo recipe here, is that a lot of people have problems with their scalp that is a direct result of the use of lye.
Soap made with lye has quite a high pH, and it's really hard to reduce it in a soap or shampoo bar recipe. Some people say curing a bar for longer lowers the pH, but it still won't lower enough. Shampoo bars containing lye normally have a pH of between 10 and 13. This is quite alkaline, considering our human hair and the oil on our scalp has a pH of around 4.5-5.5.
Using lye soap on the rest of our body isn't as much of a problem – our skin is always shedding and regenerating so it bounces back really quickly. But hair, although we do lose some every day, doesn't grow back as fast, so over time, lye can cause a bit of damage to hair.
It's really hard to find a recipe online for a shampoo bar without lye. Some claim to be recipes "without handling lye" but in actual fact most use melt and pour soap bases which already contain the lye! So although you don't need to handle it yourself, it is still in your finished shampoo bar product.
If you are making a lye-free shampoo, it's important to make sure your shampoo bar has a high superfat content. You want to balance that by including a higher superfat content – around 12%-20% is what I think works well (noting that I have naturally dry hair). Ingredients like cocoa butter or shea butter work for this.
Recipe for lye free shampoo bar
So here is a recipe for a lye free shampoo bar, with a higher superfat than a lot of other bars.
It looks a little more complicated than many shampoo bar recipes that you see online, and is more expensive to make, BUT… that's because, unlike many other recipes online, this is a SHAMPOO, and not a soap! It has no lye, has surfactants, pH adjusters and ingredients that will help preserve the shampoo bar and stop any nasties growing while it sits in your bathroom. Remember that even thought it costs to produce, you are getting a pure shampoo that will last for aaaaages, and overall it's still more cost-effective, not to mention hair-friendly, earth-friendly and waste-friendly.
This recipe will make about four bars, or 200 grams. You can halve it if you like to make a smaller batch. Measure with accurate scales for best results, but there is some room for adjustments. It's based on a recipe at www.schoolofnaturalskincare.com – a great information source!
Even thought some ingredients sound complicated, they aren't – they are plant-based, or plant-derived. Definitely not SLS and no nasties. All are accepted in organic formulations. You can click on each ingredient to see it on Amazon for more information and options. I've put in a link to a product I suggest, but there are so many brands / sellers you have a few options. It can be hard to buy the ingredients in small batches – but does it matter? You'll end up with some great supplies that you can use for more shampoo bar making, soap making, candles, and loads of other stuff!
Read on for the recipe and instructions:
Equipment:
Digital scales, bowls spoons, a double boiler if you have one (not essential), and some molds. These can be silicone cupcake pans if you want. If you don't have anything to use as a mold – don't panic, you can make a slab of solid shampoo and cut it later.
Ingredients:
Click on each ingredient for a link to Amazon, where you can read more information or buy it.
| | |
| --- | --- |
| Ingredient, and amount | Notes |
| 62g Sodium Coco-Sulfate | Makes your shampoo foamy, and is derived from coconut oil. |
| 60g Coconut derived Sodium Lauryl Sulfoacetate | This is not SLS! We know that Sodium Lauryl Sulfate is something to watch out for, but this (Sodium Lauryl Sulfoacetate) is something different. This is plant-derived, mild, great for skins and cleansing. |
| 16g Coconut-derived Cocamidopropyl Betaine | This is a surfactant and makes your shampoo bar foam up when you use it. The surfactants I recommend are derived from coconut. |
| 15g Coconut-derived Decyl Glucoside | Same as above – this is a surfactant and makes your shampoo bar lather up well. |
| 6g Cetyl Alcohol | This both thickens the shampoo bar and helps moisturize and soothe the skin. You might be able to skip this and increase the amount of shea or cocoa butter you use. |
| 18g Cetearyl Alcohol | This is also a conditioner, and helps thicken the shampoo so that it will set. |
| 12g Cocoa Butter or Shea butter | You can try different things here, as long as it's a solid butter. Coconut oil doesn't work as well as it has a low melting point and is quite light. |
| 3g Citric Acid | This will help lower the pH, much better for your body. |
| About 5g essential oils (you choose) | To make it smell nice! Bonus points if it has preservative properties, such as: tea tree, lemongrass, rosemary, and lavender (and more!). Citrus Bliss is a favourite of mine. |
Instructions:
Mix the first four ingredients in a container and melt (in a water bath or double boiler). That's the sodium coco-sulfate, sodium lauryl sulfoacetate, cocamidopropyl betaine and decyl glucoside. It'll be quite thick, rather than a liquid. It seems to take a really long time, sometimes up to 30 minutes, so be patient.
Do the same thing (but separately) with the cetearyl alcohol, cocoa butter and citric acid.
Add the paste from Step 1 to the mixture from Step 2 and stir.
Let it cool down to around 45°C.
Add the rest of your ingredients, mix.
Put in a soap mould, put in the fridge and leave until it's hard.
Take the bars out of the mould and leave it to cure / dry for a few days.
DONE! A natural solid shampoo bar without lye, that doesn't include a pre-made melt and pour solution.
PS – if you feel like your finished shampoo bar is too soft, try increasing the drying time. After you have made it, let it sit for a week or two before using. And don't leave it sitting in a puddle in the shower, try to dry it out between uses.
PPS – As always, I recommend a conditioning rinse with a vinegar / water mix, or a lemon juice-water mix. Your hair will feel so clean and soft! Technically the shampoo bar is already conditioning, but I have high maintenance hair and always follow with a vinegar rinse.
If you want to learn more about lye, click here.
For other shampoo bar recipes, see here.
This post may contain affiliate links. If you click on the links and end up purchasing something, I may get a small commission. This doesn't cost you anything extra 🙂